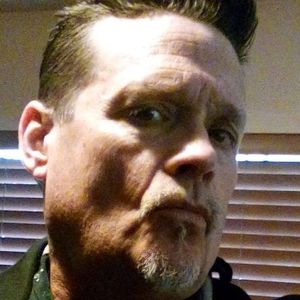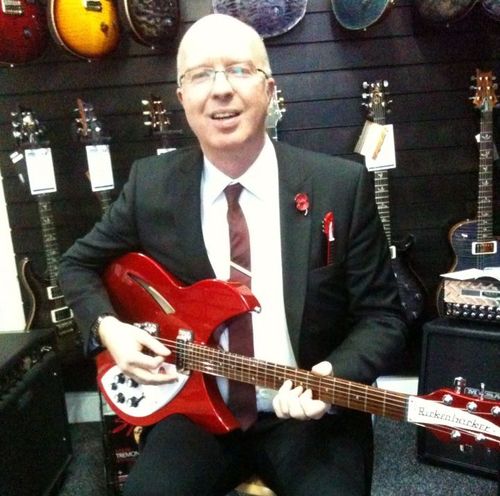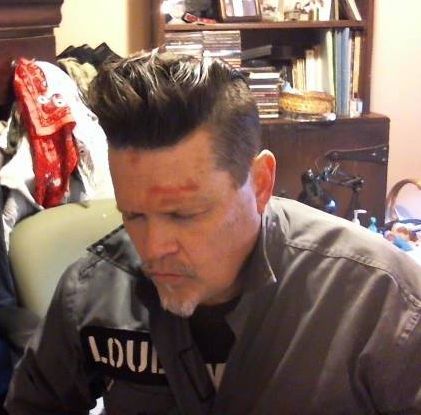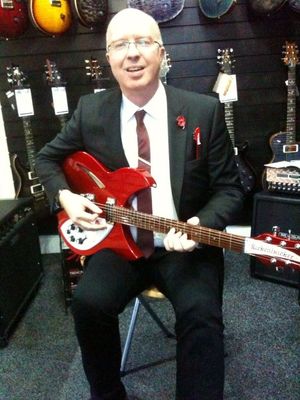 Name: Phil Calland  
Lives: Banks, Southport, UK  
Born: Liverpool, Uk
Musical Journey: Started playing guitar in 1972 at 12 having heard  The Beatles' "Red Album" owned by my mate', Ken Percival's Dad. I learned on a cheap classical guitar at St Thomas, Lydiate Church Youth Club, tutored by the fantastic, Frank Cook.
My parents quickly realised I had a real passion for the guitar and took me down to the famous Hessys in Liverpool where we were wowed by the fabulous Jim Gretty who made it sing & they bought me an expensiveYamaha acoustic guitar. This was 1972 and I still play it today as it sounds great!
To move my playing on quicker, I had lessons with Allan Mayes, who it turned out had played with Elvis Costello in his first band, a folk-rock outfit called  Rusty, before Elvis's career took off in '76. Here is Allan & Elvis re-uniting  in 2017: 
https://www.youtube.com/watch?v=AS8_BMQ7P1c
Allan was inspiring & helped take me to the next level in my playing in 1974 and helped cement my passion for  music-making. It was great re-connecting with Allan on Facebook and in person in 2016
Hearing Eddie & The Hot Rods being played on Radio 1 as everyone's "next big thing in 1977" in that Glorious summer of 1976 blew me away with the power & aggression compared to the tame & bland music at the time with bands having 20 minute drum solos in their live shows. This was the pre-cursor to the punk & new wave explosion. An early Hot Rods track I bought,  "Teenage Depression" https://www.youtube.com/watch?v=Moe4DkZy5Ds inspired me to start writing songs . A passion I have continued to develop to this day. With the incredible power of Facebook, I am not only friends with the band, but also produce videos for them including the 40th Anniverary show at London's 229 Venue
I have my own 32-Channel analogue & digital garage recording studio and have been producing & recording since 1983
Instruments: Guitar, Bass, Keys, a myriad of Hard & Software Music Technology including Cubase, Komplete & Absolute and  a  32-Channel analogue & digital Garage Recording Studio using PC's and Mac's
Video Production Journey: I have produced 702 videos since 2012, had  277,187 views on my YouTube channel with 349 subscribers & between 4-6,000 views per month and 1000's on my Facebook pages which secure more hits than YouTube these days with it's one-click accessibility! 
I use 4 No pro Sony HD/4K video cameras for ultimate results & 'am known as the FX King for my passion for the innovative use of FX!
Musical ethos:  Punk taught me a life lesson in 76-77, you don't have to be a virtuoso at anything in life, you just need  to get up, have a go, learn from everyone & everything, learn on the job & Do Anything You Wanna Do to achieve  success and your objectives in life
Name: Louden Kliehr ( pronounced "LOUDen Kleer) aka Told But Not Listening
Lives: Concord, California, USA
Position:  Chimp at a Typewriter/Hollerin'/Words; co-founder/ co-collaborator/ co-creator; Guy in the day glo vest drinking coffee while watching others (Phil) do the work 
Location:  East of Oakland &  Berkeley CA USA 
Age:  60 in 2019 
Relationship Status:  On hold intentionally
Musical Journey:
Fave band:  The Clash 
Top Ten fave albums:  London Calling (Clash); Imperial Bedroom (Elvis Costello); Mona Lisa's Sister (Graham Parker); The Gift (The Jam); Quadrophenia (the WHO) 
 Joshua Tree (U2); Darkness at the Edge of Town (Springsteen & E St Band); Music From the Big Pink (the Band); Blood on the Tracks (Bob Dylan);  Let It Bleed (Stones)
Fave song:  Don't Dream It's Over (Crowded House) 
Sound, Voice, Words Influences:  Elvis Costello, Graham Parker; The Clash/Joe Strummer; Pete Townsend; Springsteen, Phil Calland, Screwed Up Love History; Deep physical pain 
Fave musician: Joe Strummer  
Fave singer(s):  Graham Parker, Elvis Costello, Otis Redding, Roy Orbison, Patsy Kline, Fur Dixon, Beki Stranghan 
TMI: After a decade of doing nothing creatively, started writing and playing guitar again in Spring 2013. Have created 4 recorded songs with Phil Calland with another dozen or so 
in a holding pattern. Goal is to create and release one song, with video, per quarter. 
Musical ethos: "It's all six strings or none". Joe Strummer 
                                   "I only know 6 chords but I know 'em cold." George Thorogood 
                                   "I'm not a writer nor a musician nor a punk rocker." Me